Written by Dean Baker
Thursday, 30 September 2010 09:15
This is the question that millions are asking. And, we have the answer for you. The chart below projects out the payable real Social Security benefit for an average worker retiring at age 65. These numbers are derived from the intermediate projections in the 2010 Social Security Trustees report. Note that the benefit is in 2009 dollars, meaning that it is adjusted for inflation.




The numbers for the Washington Post show the actual decline in circulation from 2002 to 2010 taken from ABC Reader Profile Studies and ABC-Audience Fax E-Trends Tool. For later years it projects out the 3.7 percent average annual rate of decline over this period.

Note that, even if nothing is ever done, Social Security will always be able to pay out a higher real benefit than is received by retirees today. After 2037 it would no longer be able to pay full scheduled benefits, but the payable benefit in 2038 would still be 12.1 percent higher than what the average retiree gets this year. The payable benefit in 2085, the last year in the planning period, would be nearly twice the average benefit in 2010.

The prospects for the Washington Post don't looks quite so good. Its average daily circulation in 2010, at 580,000, is already 25.9 below its 2002 level. By 2038, when Social Security is first projected to face a shortfall, on its current path, the Post circulation would have dropped by 68.1 percent to 185,000. By the end of the Social Security's planning period in 2085, the current trend would put the Post's average daily circulation at 27,000.


Written by Dean Baker
Tuesday, 28 September 2010 09:09
Despite an uptick in the sales rate for August, home sales remain weak. The sales rate for existing homes bounced back slightly after taking a hit in July, but it remains well below the pace set by the homebuyers tax credit earlier this year. Existing homes sold at a 4,130,000 annual rate in August — 7.6 percent above the rate in July, but more than 20 percent below the average for the first half of the year. The purchase mortgage applications index remains depressed, running close to 30 months behind levels for the same months in 2009. This suggests sales in September and October are unlikely to pick up from their current rates.

All of this is consistent with the view that the main impact of the tax credits was to pull purchases forward. People who might have bought in the second half of 2010 or even 2011 instead bought their home before the tax credit expired. While the credits sustained an annual sales rate of well over 5 million for the period it was in effect, the sales pace is likely to remain close to 4 million for the rest of 2010 and 2011. The moving forward of purchases helped to support sales prices during this period, but did nothing to affect the underlying glut of housing.

For more information, read the full Housing Market Monitor.
Written by John Schmitt
Monday, 27 September 2010 06:57
Michael Norton (of Harvard Business School) and Dan Ariely (of Duke) have released results (pdf) from a series of experiments they did in 2005 on the subject of wealth inequality. They asked individuals in a nationally representative online panel to (1) estimate the current US distribution of wealth and (2) "build a better America" by describing what they thought would be the "ideal" wealth distribution.
The key findings:
First, respondents dramatically underestimated the current level of wealth inequality. Second, respondents constructed ideal wealth distributions that were far more equitable than even their erroneously low estimates of the actual distribution. Most important from a policy perspective, we observed a surprising level of consensus: All demographic groups – even those not usually associated with wealth redistribution such as Republicans and the wealthy – desired a more equal distribution of wealth than the status quo.
This figure from the paper shows the actual distribution of wealth, respondents' average estimate of the actual distribution, and their "ideal" distribution:
Source: Norton and Ariely.
Even those respondents who voted for George W. Bush look like they're far to the left of "actually existing capitalism." In the actual distribution, the top fifth holds over 80 percent of all wealth in the United States. On average, Bush voters estimated that the true share was close to, but not quite 60 percent. Ideally, however, Bush voters believed the top 20 percent should have about 35 percent of all wealth (for Kerry voters, it was about 30 percent).
This piece is crossposted with John Schmitt's blog, No Apparent Motive.

Friday, 24 September 2010 10:47
The CEPR NEWS took a vacation in August, but CEPR staff did not. The following newsletter highlights CEPR's latest research, publications, events and much more.

Read more...
Written by Shawn Fremstad
Thursday, 23 September 2010 10:48
Imagine you're one of the 6.8 million Americans who have been unemployed for more than six months. (Imagine, that is, if you don't already have the misfortune of being one of them). You receive a job offer that you quickly accept. But it comes with an increasingly common catch: your potential employer wants to check your credit first.

This catch, which they had assured you was only a formality, turns out to be a catch-22. When the HR person doesn't like what they see, they take back the offer. It turns out you can only get the job you need to pay your bills and repair your credit history if you don't have a credit history in need of repair.

If you haven't applied for a job recently, or read press accounts of the increasing use of credit checks by employers, you might be astonished to know that employers can decide to hire or fire you because you were late paying a bill. But the use of credit reports by employers is now widespread. A recent survey by the Society of Human Resources Management found that 60 percent of employers conduct credit background checks for some or all job candidates.

Read more...
Written by Alan Barber
Wednesday, 22 September 2010 14:48
Housing starts were up 10.5 percent last month, but Dean Baker warns "Don't get too excited."
Written by David Rosnick
Friday, 17 September 2010 15:46
According to the Committee for a Responsible Federal Budget, "life expectancy at age 20 has increased by 9 years for men and 10 for women." By comparing this change to the increase in retirement age, the CRFB is implying that people who reached age 20 in 2006 can expect retirements 7-8 years longer than people who reached age 20 in 1940. This is a gross exaggeration.
There are two reasons why this is dangerously wrong. First, there is a technical point. There are two main measures of life expectancy, and the CRFB chooses unwisely for their comparison. Second, life expectancy only measures the length of retirement for those who are of retirement age. By choosing both to use life expectancy and then choosing the less relevant measure, the CRFB grossly exaggerates the actual and projected experiences of workers.
Read more...
Written by David Rosnick
Friday, 17 September 2010 10:30
The Consumer Price Index rose 0.3 percent in August, making it the second consecutive month the measurement has seen an increase. The rise is almost entirely attributable to energy prices, which rose another 2.3 percent, as the core price index of consumer goods remains largely unchanged. Core prices over the last 12 months have risen only 0.9 percent.

Transportation contributed greatly to measured inflation with a 1.2 percent increase, but most if not all of the increase is attributable to fuel prices. In August, the price of gasoline rose 3.9 percent. Even though gasoline prices experienced a 4.1 drop in June, prices have risen at a 16.2 percent annualized rate since May.

All major categories of imports and non-agricultural export prices showed accelerating inflation, which is consistent with a falling dollar. Imports become more expensive as the real price of dollars declines relative to other currencies, leading to a decline in purchasing power. On the flip side, exporters may demand additional dollars for their goods even as the prices of exported goods fall in other countries. These seemingly contradictory effects have progressed since the real dollar began declining in early 2002—following a large run-up which began in the mid-1990s.

For more information, read the full Prices Byte.
Written by Shawn Fremstad
Thursday, 16 September 2010 15:35
The Census Bureau on Thursday released a report on trends in income and health insurance coverage between 2008 and 2009. As expected, the numbers show a substantial deterioration in Americans' economic security. According to the report, in 2009 one in three Americans had incomes that fall below the amount most Americans and various budget estimates show is necessary to "make ends meet" --
$45,000 to $50,000 for a family of four
. The report also shows substantial increases in the poverty rate and rate of people without health insurance, as well as declines in median income for various demographic groups such as young adults, Blacks and non-citizens (although, not overall).
The numbers, however, do not reflect legislation enacted in 2009 and 2010 to boost job growth and increase economic security. Financial assistance provided by the American Recovery and Reinvestment Act of 2009 to low- and moderate-income households comes in forms not factored into the official poverty and median income numbers. In addition, many of the investments in the Recovery Act were not made until the latter half of 2009 and this year. Also, health care reform has only begun to be implemented. Most of the expansions in coverage will not occur until 2014.
For more information, read the full Poverty Byte.
Written by John Schmitt
Wednesday, 15 September 2010 13:38
In an interview published Sunday, the US Treasury's Chief Economist Alan Krueger told the Financial Times that: "The jobs situation – as difficult as it is – has actually started to improve earlier than in the last two recoveries."

Today, Ezra Klein picked up on this same point, running with this graph from a post by Invictus at Ritholtz.com: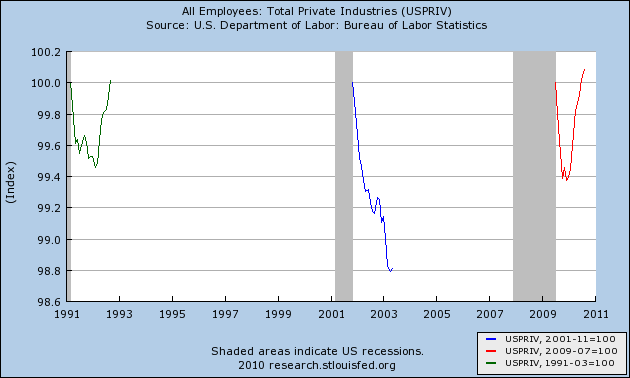 Source: Invictus, Ritholtz.com

This first graph shows the change in total private-sector employment from the trough of the last three recessions (assuming that the Great Recession ended in the summer of 2009). By this measure, the last year or so doesn't look so bad. Private employment turned around sharply about the beginning of this year, well ahead of the schedule for the previous two recessions.
But there are two problems here....
Read more...
Written by Dean Baker
Wednesday, 15 September 2010 07:20
Maybe the boys and girls in Congress will never muster the will to provide the stimulus to get the economy moving. Perhaps Bernanke and the Fed crew will never get over their fear of inflation even as it turns to deflation. And, Washington politicians are too macho to say that we actually need the dollar to fall (i.e. a weak dollar) to get our trade deficit in line.

But, at least we have the pleasure of watching the leading lights of the anti-stimulus crew flailing in the cyberspace of the NYT, trying to pretend that their case makes sense. And no one does this better than University of Chicago economist Casey Mulligan.

Professor Mulligan thinks that he can show that stimulus does not work by examining the job impact of the workers temporarily employed to carry through the 2010 Census. Mulligan notes the assumption of stimulus proponents that the there would be a multiplier effect of 1.6 for each job directly created by the stimulus. This means that for every person directly employed as a result of stimulus spending there would be 0.6 jobs created as a result of the spending out of this worker's wages.

Mulligan applies this arithmetic to the hiring of temporary Census employees earlier this year. Census employment peaked at just under this 600,000. The 0.6 multiplier would imply a jump in 360,000 non-Census related jobs. Mulligan looks at the data and cannot find any evidence of this sort of jump and believes that he has an important piece of evidence against the stimulus.
Read more...
Written by David Rosnick
Friday, 10 September 2010 21:40
As Paul Krugman might say. the Committee for a Responsible Federal Budget (CRFB) is very, very confused.

At issue is this chart. What this figure presents are two policy choices (among many). One choice is to extend the tax cuts for upper-income taxpayers and cut Social Security benefits. Another possibility is to let those upper-income tax cuts expire as specified under current law, and fully fund Social Security. What we find is that with either option, the national debt in 2085 is the same.

The CRFB argues that although present-value calculations "are an important way to measure out fiscal obligations" it must be that "cash flow matters too." In other words, even if we do get to exactly the same level of debt in 2085, it matters how we get there. If we choose to extend the tax cuts and cut Social Security, for example, we will have higher levels of debt every year for the next 75 years, but the difference will slowly shrink back to zero.

It may certainly be preferable to have higher debt today and pay later when the economy is much more productive and workers have much higher incomes than they do currently. But even 75 years down the road, few workers will make the equivalent of $200,000 this year. According to the projections of the Social Security Trustees, the average worker will earn a little more than $105,000 per year in 2085 compared to $43,000 today. This means someone earning almost twice the average in 75 years (and getting a cut in benefits) will have income less than those who would get tax cuts next year.
Read more...
Written by Shawn Fremstad
Tuesday, 07 September 2010 13:05
Expanding on David's last post about the Heritage Foundation's newfound interest in family leave, it's also worth noting that Heritage's claim that "for the vast majority [sic] married moms, the workplace is not the top choice of where they want to spend their days" is a somewhat imprecise summation of the survey data they cite. What the survey data cited by Heritage really show is a plurality of married women with children (46 percent) would prefer to combine less-than-full-time employment in the paid labor force with less-than-full-time care work in the household. When combined with the 18 percent who prefer full-time paid work, this means that the "vast majority" (about 64 percent) actually prefer either full-time or part-time paid work to full-time unpaid care work. This isn't particularly surprising given that the employment rate for married women with children was 67.8 percent in 2009.
Given, as David noted, Heritage's opposition to narrowly targeted, means-tested income supplements for at-home child care (at least for single parents), it does leave one wondering what policies they have in mind when they say that "taxpayers and policymakers should work to promote policies that would enable moms to make the choice to stay at home and care for their children." Of course, there's always the all-purpose conservative policy fix of tax cuts for the well-off, but there's no evidence that tax cuts increase at-home care. In fact, the last several decades of increasing female labor force participation have been accompanied by cuts in marginal tax rates. A solution that would actually work (i.e., have the intended effect of increasing the time parents spend with children) would be to provide moms and dads with paid family leave and increased workplace flexibility so that they can combine work and family duties.
Written by David Rosnick
Friday, 03 September 2010 15:38
In a post today titled "Mothers' Intuition Trumps Feminist Ideology," Collette Capara at the Heritage Foundation blog concluded "Taxpayers and policymakers should work to promote policies that would enable moms to make the choice to stay at home and care for their children."

Interestingly, there used to be just such a program to help mothers stay at home and care for their children. That program was Aid to Families with Dependent Children (AFDC). The reason AFDC no longer exists is because organizations like the Heritage Foundation insisted that these mothers should work rather than raise their children.

Written by Shawn Fremstad
Tuesday, 31 August 2010 09:45
The conservative "welfare reform" law enacted in 1996 is most commonly associated with the block granting of means-tested income support for extremely low-income parents and children (the program formerly known as AFDC and now as Temporary Assistance to Needy Families or TANF), a move that has rendered it largely ineffectual during the current recession. But the law also included some especially harsh restrictions on most means-tested social insurance benefits for immigrants, including basic disability benefits like Social Security Income (SSI) and basic health benefits like Medicaid. What's particularly notable about these restrictions is that they applied not only to undocumented immigrants (who were already ineligible for nearly all forms of public assistance) but also to many immigrants who were lawfully residing in the United States.
Perhaps the cruelest cut was a provision that rendered refugees and other humanitarian immigrants who have fled persecution, often including violence and torture, in their home countries ineligible for SSI after the had lived in the United States for seven years. Under the law, refugees can regain eligibility by obtaining U.S. citizenship, but as a story in yesterday's Miami Herald reports, some 4,000 refugees haven't been able to obtain citizenship within the timeframe, and are scheduled to lose SSI on October 1. Another 37,000 refugees could lose SSI over the next 10 years.
One fix involves giving refugees more time to obtain citizenship, an approach first put forward by the last Bush Administration, and adopted temporarily in 2008, when Congress approved a two-year extension for most refugees facing the cutoff. However, as the Herald's story shows, this approach hasn't worked for many elderly or disabled immigrants.
Instead, Congress and the Obama Administration should eliminate the SSI citizenship requirement altogether for elderly or disabled refugees. Refugees, like other legal immigrants and all citizens, pay taxes, are subject to all state and federal laws, and can be required to serve in the U.S. military. Moreover, making subsistence benefits contingent on naturalization incentivizes (and effectively compels) naturalization for the wrong reason (a financial one) rather than the right ones (loyalty and the desire to participate politically in the United States by exercising the one other benefit that is contingent on citizenship, the right to vote in U.S. elections).
Written by Hye Jin Rho
Friday, 27 August 2010 13:16
Women have increasingly played a significant part in the unionized workforce in recent decades. In 2009, almost half (46%) of unionized workers were women, compared with 38% in 1989. John Schmitt makes a point that at this rate, women will exceed the share of men in the unionized workforce by 2020. Zeroing in on the matter, CEPR occasionally looks at a more specific group of workers represented by unions. For example, here, we seek to examine women in one of the fastest growing ethnic groups in the U.S. workforce, the Asian Pacific Americans.
Read more...
Written by Nicole Woo
Friday, 20 August 2010 17:28
With today's news that jobless claims are up, Dean Baker points out that "employers are already hiring more than 4 million workers a month. The problem is that roughly 4 million workers a month are also leaving their jobs, half voluntarily and half involuntarily."

So while it's important to reduce jobless claims, the unemployment rate would also be lowered by working on the other side of the jobs equation -- by preventing some of the 2 million layoffs that happening every month.

This is where the idea of work-sharing comes in. As the NY Times noted in a recent article on Germany's quick rebound from the recession,"A vast expansion of a program paying to keep workers employed, rather than dealing with them once they lost their jobs, was the most direct step taken in the heat of the crisis,"
Read more...
Written by Nicole Woo
Wednesday, 11 August 2010 16:59
The following comments were submitted by CEPR to the National Commission of Fiscal Responsibility and Reform on August 11, 2010:
The Center for Economic and Policy Research (CEPR) is a non-partisan think tank in Washington, DC, that was established in 1999 to promote democratic debate on the most important economic and social issues that affect people's lives. CEPR is committed to presenting issues in an accurate and understandable manner, so that the public is better prepared to choose among the various policy options.

Since its founding, CEPR has conducted analyses of Social Security and the federal budget. Here is a summary of our most recent work on federal deficits and Social Security, which we hope will be useful to the Commission as you continue your deliberations.
Read more...
Written by Nicole Woo
Friday, 06 August 2010 16:34
Yesterday's release of the annual Social Security Trustees' Report caused a flurry of media coverage and commentary, including Dean Baker's observation that this year's report predicts much higher future wage growth than prior reports. In fact, the new report forecasts that annual wages will be 47.8% higher in 2040 than in 2010 (adjusted for inflation).

In the month leading up to the report's release there's been, as CNN describes it, a "red-hot debate over raising the retirement age" for Social Security. CEPR is helping inform the debate by busting certain myths.
Read more...
Written by Dan Beeton
Thursday, 05 August 2010 15:07
The documentary film "South of the Border" examines how the governments of Venezuela, Bolivia, Ecuador, and other countries are depicted in the major U.S. media. Many major U.K. media outlets offer a similar treatment of Latin America. A recent analysis of BBC coverage of Venezuela in the Chávez years, for example, details numerous misleading statements and distortions. To take another case, The Guardian is currently prominently featuring a report from last year on "The rise and rule of" Hugo Chávez. The slideshow – almost a sort of mini-documentary – is done by South America correspondent Rory Carroll, and it provides a good example of the kinds of distortions and one-sided, de-contextualized information on South America that have appeared in many Guardian news reports over the past several years.
The slideshow begins violently, with the sound of gunshots and images of the failed 1992 coup d'etat launched by Chávez and other military officers. A barebones description of the coup quickly segues into an explanation that "Chávez … instead of shooting his way into power … seduced his way," since "the poor were angry", as Carroll puts it. There is no mention of the exponentially more bloody episode that would help explain how divided Venezuelan society had become prior to '92, and why the coup attempt was so popular: the 1989 caracazo, protests against IMF-mandated economic policies which were crushed by the Venezuelan military and police, resulting in hundreds and possibly thousands killed as troops fired on demonstrators.
Read more...
<< Start < Prev 41 42 43 44

45

46 47 48 49 50 Next > End >>


Page 45 of 56