Friday, 21 March 2014 13:29
The following reports on labor market policy were recently released:
Read more...
Written by Alan Barber
Wednesday, 19 March 2014 13:56
Maybe you've had that early morning moment of anxiety when you wake up with a fever and a cough that won't stop and you think 'Should I go to work today?' If you're lucky, your employer offers a few paid days off in case of illness and you can roll over to get some much needed rest. Unfortunately, that is not the case for everyone. More than 41 million working Americans, in industries from fast food to health, education and social services, face the dilemma of taking time to recover from an illness or losing a day's pay.
Currently, only seven cities in the United States and the state of Connecticut have laws mandating some type of paid sick leave. Yes, that is as bad as it sounds. To give a little context,
Read more...
Thursday, 13 March 2014 13:25
In a discussion yesterday with Bill Bennett, Rep. Paul Ryan told him: "your buddy Charles Murray or Bob Putnam at Harvard, those guys have written books on this, which is we have got this tailspin of culture, in our inner cities in particular, of men not working and just generations of men not even thinking about working or learning to value the culture of work, and so there is a real culture problem here that has to be dealt with." [italics mine]
Read more...
Written by Dean Baker
Thursday, 13 March 2014 09:54
If it's not immediately apparent how the rate of job creation on Bill Gates' estate is relevant to the pace of job growth in California and Texas then you have to think about the issues more carefully. In recent weeks, many proponents of low taxes have been touting the faster pace of job growth in low tax Texas compared with high tax California as proof of the economic superiority of the low tax model.
There is little doubt that Texas has seen faster job growth in recent decades. Since the business cycle peak in 1981 employment has grown by 56.0 percent in California, compared to 77.9 percent in Texas. If our only measure of economic success is job creation, there is no doubt that Texas wins the prize, but it is a bit more complicated.
First there is the issue of oil, which is important but by no means the only factor explaining differences in growth. By using 1981 as a base year, we are comparing a near peak oil price with another period of high prices. But Texas' growth pattern does look a bit like an OPEC country. If we take the low oil price year of 2000 as the end point, California wins the job growth prize 48.6 percent to 47.1 percent. So clearly the price of oil (and gas) plays a big part in the economic performance of Texas.
However there is another very important factor in the story, building restrictions. In general, California imposes relatively tight restrictions on building, whereas regulations in Texas are considerably more lax. The result is that, relative to the size of its population, much more housing has been built in Texas over the last three decades than in California. And this has meant that housing is considerably cheaper in Texas than in California.
Just to take a couple of examples, according to the Department of Housing and Urban Development, the fair market rent for a two-bedroom apartment in Los Angeles County is $1,398 a month. In Harris County, which includes Houston, it's just $926 a month. The fair market rent for a two-bedroom apartment in Santa Clara County, which includes San Jose, is $1,649 a month. It was just $894 in Dallas County in 2010, the most recent year available.
Read more...
Wednesday, 12 March 2014 14:37
This morning, one of the largest caucuses in Congress, the Congressional Progressive Caucus, released the Better Off Budget. The headline numbers are impressive: 8.8 million jobs by 2017, and $4 trillion in deficit reduction over the next 10 years.

Budget experts and journalists have posted good summaries of the dozens of proposals in the Better Off Budget, such as investments in infrastructure and clean energy; the reversal of sequestration and other spending cuts; and funding for the long-term unemployed, rehiring of state employees, and public works and job training programs.
Read more...
Tuesday, 11 March 2014 15:04
Tomorrow morning (March 12), the Senate Health, Education, Labor & Pensions Committee will hold a hearing titled "From Poverty to Opportunity: How a Fair Minimum Wage Will Help Working Families Succeed." The witnesses will range from the Secretary to Labor, to a renowned economist, to a Catholic nun.

Douglas Elmendorf, director of the Congressional Budget Office, will also be testifying. He'll likely be presenting the results of a recent CBO study on the effects of a minimum wage increase. That report generated a lot of media attention, mostly for its projection that a raise to $10.10 per hour would "reduce total employment by about 500,000 workers, or 0.3 percent."
Read more...
Written by David Rosnick
Friday, 07 March 2014 15:18
Ylan Mui at The Washington Post's Wonkblog had a piece Thursday titled "This is why the Fed should start worrying about inflation again." The main bit of evidence is a graph attributed to Kevin Logan showing a negative relationship between the unemployment rate and increasing rates of inflation. But this graph actually says far less than Mui says.
Indeed there is a relationship between unemployment and inflation. The Federal Reserve is tasked with balancing inflation and unemployment, and when the Fed fears inflation, it raises interest rates with the intent of slowing the economy and creating unemployment. To some extent, then, the relationship is the Fed's doing.
Read more...
Written by Dean Baker
Friday, 07 March 2014 08:47
The Labor Department reported that the economy added 175,000 jobs in February with modest upward revisions to the prior two months' data. This brings the 3-month average to 129,000. While this is considerably weaker than the fall months, weather has undoubtedly played a role in slowing job creation. The mix of jobs in February was somewhat peculiar with the professional and business services category accounting for more than half of the total (79,000 jobs). This was driven in part by an unusual jump in accounting bookkeeping services of 15,700 jobs which partially offset the decline of 30,800 reported in December. Manufacturing employment has slowed to a crawl, adding 6,000 for the second consecutive month, following a 7,000 rise in December.
Read more...
Tuesday, 04 March 2014 15:32
Reading Paul Ryan's new report, The War on Poverty: 50 Years Later, I was most struck by how disconnected it is from the real-world economic concerns of today's diverse working class (a term I use to designate people in roughly the bottom third of income/wealth distribution). Here are just a few of the real issues of concern to working-class people, none of which receive any mention in Ryan's report:
Read more...
Friday, 28 February 2014 14:21
The following newsletter highlights CEPR's latest research, publications, events and much more.
Read more...
Tuesday, 25 February 2014 10:32
In his Sunday column Nicholas Kristof returns to West Virginia and calls for an "integrated set of early interventions", including family planning, home visitation programs, support for breastfeeding, lead-poisoning prevention, and screenings for hearing and visual impairments, and pre-K. So far so good, these are all worthy social programs that we should be investing much more in as a nation.
But Kristof goes astray when he argues that "American antipoverty efforts over the last half-century haven't been more effective [because] they mostly treat symptoms, not causes" and, in an accompanying blog post, to say he's frustrated the current inequality debate is "mostly about the minimum wage and unemployment benefits" which "to [his] thinking are useful but not the most cost-effective measures."
Read more...
Friday, 21 February 2014 16:03
There's been a lot of hand wringing in Washington policy circles about the Affordable Care Act. One of the main complaints from the DC elite crowd is that the ACA will slow growth and devastate the economy.
But here at CEPR we deal in facts. And we see the fact that some workers are recognizing their new freedom as a result of being able to buy affordable insurance on the individual market as a good thing. This was one of the points of the Affordable Care Act. People who were once stuck in jobs they hated because they needed the health insurance can now find affordable health care. Older workers in physically demanding jobs can cut back on their hours. People can quit their unsatisfying jobs to realize their dream of starting a small business .
Read more...
Friday, 21 February 2014 15:15
Paul Krugman recently highlighted Pew's finding that the share of Americans identifying as "middle class" (44 percent) has nearly converged with the total share identifying as either lower-middle (28 percent) or lower class (12 percent). This sounds totally plausible, but got me wondering where "working class" self-identification fits in.
Read more...
Written by Dean Baker, Janelle Jones, and John Schmitt
Friday, 21 February 2014 14:51
Opponents of Obamacare are still muttering about how the bill is a jobs killer and claiming the Congressional Budget Office (CBO) warned that it will lead to a loss of more than two million jobs. Of course the CBO analysis did not say the Affordable Care Act (ACA) would destroy jobs; CBO said that by allowing people to get health care outside of employment, the ACA would lead to a reduction of two percent in the total number of hours worked.
This means that older workers in bad health may decide to retire early, because now they can get insurance in the individual market. Workers suffering from cancer or other serious diseases will be able to quit their jobs or work fewer hours because they will no longer be dependent on their job for insurance. And, many parents of young children may opt to take some time off from their jobs or cut back their hours.
This is the "job loss" that has gotten opponents of the ACA so excited. But there is another aspect of this picture that should get other people excited. Back in intro economics we teach students about supply and demand. Other things equal, we expect a reduced supply – in this case of workers – to lead to a higher price or wage. In other words, a reduction in labor supply associated with the ACA might lead to some increase in wages.
Read more...
Thursday, 20 February 2014 00:00
In a post Wednesday , I reviewed a long list of ways in which Tuesday's Congressional Budget Office (CBO) report embraced arguments made by supporters of the minimum wage. In this post, I want to make some observations on CBO's analysis of the employment effects of the minimum wage, the aspect of the report that has received, by far, the most attention in the media.
Read more...
Wednesday, 19 February 2014 15:57
You wouldn't know it from the headlines, but on almost every issue in dispute, yesterday's Congressional Budget Office (CBO) report on the minimum wage sided with supporters of increasing the federal wage floor. The only major exception --which has so far dominated the media coverage-- was with respect to the employment effects of a minimum-wage increase, where the CBO decided to saw the baby in half.
First, let's look at all the disputes where the CBO accepted the numbers and the reasoning of supporters.
Read more...
Friday, 14 February 2014 00:00
The air is thick these days with rhetoric about spending on means-tested programs. The reality, however, is that means-tested spending, outside of health care spending, just hasn't increased much, if at all over the past several decades.
The CBPP chart below shows trends in spending on means-tested programs, other than health care, as a percent of GDP since 1972 and projected forward to 2023. The trend is pretty unremarkable. Spending on these programs has averaged about 2 percent of GDP. While spending peaked during the Great Recession, as one would expect and hope in a democracy that cares about the well-being of its people, it is now projected to fall back under 2 percent.
Read more...
Tuesday, 11 February 2014 10:27
The ugly title of this attack on single moms in the New York Times, "How Single Motherhood Hurts Kids", tells you pretty much everything you need to know about the content. The same can be said about some of the author's other greatest hits like: "Gay Marriage vs. American Marriage" and "The Single-Mom Catastrophe." In short, the message is: "Single moms, gay Dads, lesbian moms stop hurting America's children!"
Read more...
Sunday, 09 February 2014 00:00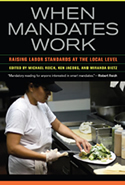 My copy of When Mandates Work: Raising Labor Standards at the Local Level, edited by Michael Reich, Ken Jacobs, and Miranda Dietz, arrived earlier this week and I finally had a chance to look through it this weekend.
The book is a collection of papers that assess the results of San Francisco's unique experiment, conducted over more than a decade starting in the mid-1990s, to use local action to raise the wages, benefits, and working conditions of low-wage workers through a series of legislated mandates on employers. Key elements of these efforts included a city-wide minimum wage (currently $10.74 per hour), a minimum health spending requirement (for firms with 20 or more employees), and a paid sick days law.
Read more...
Written by Dean Baker
Friday, 07 February 2014 08:44
The January employment report showed the employment-to-population ratio (EPOP) rising from 58.6 percent to 58.8 percent. This matches the previous high for the recovery in October of 2012. The household survey showed employment rising by 638,000 after increasing just 101,000 over the prior two months. Interestingly the growth was concentrated among younger workers. Employment for workers between the ages of 25-34 rose by 230,000, while employment for workers between the ages of 44-54 rose by 318,000, a one month increase of more than 1.0 percent. Whites disproportionately benefited from the rise in employment with the EPOP for both white men and white women rising by 0.4 percentage points.
The establishment survey was not nearly as positive, showing an increase of just 113,000 workers following last month's weak 75,000 gain.
Read more...
<< Start < Prev 1 2 3 4 5 6

7

8 9 10 Next > End >>


Page 7 of 56