Written by Dean Baker
Friday, 07 March 2014 08:47
The Labor Department reported that the economy added 175,000 jobs in February with modest upward revisions to the prior two months' data. This brings the 3-month average to 129,000. While this is considerably weaker than the fall months, weather has undoubtedly played a role in slowing job creation. The mix of jobs in February was somewhat peculiar with the professional and business services category accounting for more than half of the total (79,000 jobs). This was driven in part by an unusual jump in accounting bookkeeping services of 15,700 jobs which partially offset the decline of 30,800 reported in December. Manufacturing employment has slowed to a crawl, adding 6,000 for the second consecutive month, following a 7,000 rise in December.
Read more...
Tuesday, 04 March 2014 15:32
Reading Paul Ryan's new report, The War on Poverty: 50 Years Later, I was most struck by how disconnected it is from the real-world economic concerns of today's diverse working class (a term I use to designate people in roughly the bottom third of income/wealth distribution). Here are just a few of the real issues of concern to working-class people, none of which receive any mention in Ryan's report:
Read more...
Friday, 28 February 2014 14:21
The following newsletter highlights CEPR's latest research, publications, events and much more.
Read more...
Tuesday, 25 February 2014 10:32
In his Sunday column Nicholas Kristof returns to West Virginia and calls for an "integrated set of early interventions", including family planning, home visitation programs, support for breastfeeding, lead-poisoning prevention, and screenings for hearing and visual impairments, and pre-K. So far so good, these are all worthy social programs that we should be investing much more in as a nation.
But Kristof goes astray when he argues that "American antipoverty efforts over the last half-century haven't been more effective [because] they mostly treat symptoms, not causes" and, in an accompanying blog post, to say he's frustrated the current inequality debate is "mostly about the minimum wage and unemployment benefits" which "to [his] thinking are useful but not the most cost-effective measures."
Read more...
Friday, 21 February 2014 16:03
There's been a lot of hand wringing in Washington policy circles about the Affordable Care Act. One of the main complaints from the DC elite crowd is that the ACA will slow growth and devastate the economy.
But here at CEPR we deal in facts. And we see the fact that some workers are recognizing their new freedom as a result of being able to buy affordable insurance on the individual market as a good thing. This was one of the points of the Affordable Care Act. People who were once stuck in jobs they hated because they needed the health insurance can now find affordable health care. Older workers in physically demanding jobs can cut back on their hours. People can quit their unsatisfying jobs to realize their dream of starting a small business .
Read more...
Friday, 21 February 2014 15:15
Paul Krugman recently highlighted Pew's finding that the share of Americans identifying as "middle class" (44 percent) has nearly converged with the total share identifying as either lower-middle (28 percent) or lower class (12 percent). This sounds totally plausible, but got me wondering where "working class" self-identification fits in.
Read more...
Written by Dean Baker, Janelle Jones, and John Schmitt
Friday, 21 February 2014 14:51
Opponents of Obamacare are still muttering about how the bill is a jobs killer and claiming the Congressional Budget Office (CBO) warned that it will lead to a loss of more than two million jobs. Of course the CBO analysis did not say the Affordable Care Act (ACA) would destroy jobs; CBO said that by allowing people to get health care outside of employment, the ACA would lead to a reduction of two percent in the total number of hours worked.
This means that older workers in bad health may decide to retire early, because now they can get insurance in the individual market. Workers suffering from cancer or other serious diseases will be able to quit their jobs or work fewer hours because they will no longer be dependent on their job for insurance. And, many parents of young children may opt to take some time off from their jobs or cut back their hours.
This is the "job loss" that has gotten opponents of the ACA so excited. But there is another aspect of this picture that should get other people excited. Back in intro economics we teach students about supply and demand. Other things equal, we expect a reduced supply – in this case of workers – to lead to a higher price or wage. In other words, a reduction in labor supply associated with the ACA might lead to some increase in wages.
Read more...
Thursday, 20 February 2014 00:00
In a post Wednesday , I reviewed a long list of ways in which Tuesday's Congressional Budget Office (CBO) report embraced arguments made by supporters of the minimum wage. In this post, I want to make some observations on CBO's analysis of the employment effects of the minimum wage, the aspect of the report that has received, by far, the most attention in the media.
Read more...
Wednesday, 19 February 2014 15:57
You wouldn't know it from the headlines, but on almost every issue in dispute, yesterday's Congressional Budget Office (CBO) report on the minimum wage sided with supporters of increasing the federal wage floor. The only major exception --which has so far dominated the media coverage-- was with respect to the employment effects of a minimum-wage increase, where the CBO decided to saw the baby in half.
First, let's look at all the disputes where the CBO accepted the numbers and the reasoning of supporters.
Read more...
Friday, 14 February 2014 00:00
The air is thick these days with rhetoric about spending on means-tested programs. The reality, however, is that means-tested spending, outside of health care spending, just hasn't increased much, if at all over the past several decades.
The CBPP chart below shows trends in spending on means-tested programs, other than health care, as a percent of GDP since 1972 and projected forward to 2023. The trend is pretty unremarkable. Spending on these programs has averaged about 2 percent of GDP. While spending peaked during the Great Recession, as one would expect and hope in a democracy that cares about the well-being of its people, it is now projected to fall back under 2 percent.
Read more...
Tuesday, 11 February 2014 10:27
The ugly title of this attack on single moms in the New York Times, "How Single Motherhood Hurts Kids", tells you pretty much everything you need to know about the content. The same can be said about some of the author's other greatest hits like: "Gay Marriage vs. American Marriage" and "The Single-Mom Catastrophe." In short, the message is: "Single moms, gay Dads, lesbian moms stop hurting America's children!"
Read more...
Sunday, 09 February 2014 00:00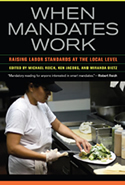 My copy of When Mandates Work: Raising Labor Standards at the Local Level, edited by Michael Reich, Ken Jacobs, and Miranda Dietz, arrived earlier this week and I finally had a chance to look through it this weekend.
The book is a collection of papers that assess the results of San Francisco's unique experiment, conducted over more than a decade starting in the mid-1990s, to use local action to raise the wages, benefits, and working conditions of low-wage workers through a series of legislated mandates on employers. Key elements of these efforts included a city-wide minimum wage (currently $10.74 per hour), a minimum health spending requirement (for firms with 20 or more employees), and a paid sick days law.
Read more...
Written by Dean Baker
Friday, 07 February 2014 08:44
The January employment report showed the employment-to-population ratio (EPOP) rising from 58.6 percent to 58.8 percent. This matches the previous high for the recovery in October of 2012. The household survey showed employment rising by 638,000 after increasing just 101,000 over the prior two months. Interestingly the growth was concentrated among younger workers. Employment for workers between the ages of 25-34 rose by 230,000, while employment for workers between the ages of 44-54 rose by 318,000, a one month increase of more than 1.0 percent. Whites disproportionately benefited from the rise in employment with the EPOP for both white men and white women rising by 0.4 percentage points.
The establishment survey was not nearly as positive, showing an increase of just 113,000 workers following last month's weak 75,000 gain.
Read more...
Wednesday, 05 February 2014 15:00
Today the Family and Medical Leave Act (FMLA) turns 21, and CEPR's Eileen Appelbaum and Helene Jorgenson have a new paper that finds that expanding FMLA coverage in certain ways would increase access to leave for 1.4 million to 8.3 million more employees in the private sector.
Read more...
Wednesday, 05 February 2014 12:27
Over 40 percent of impoverished parents of minor children are married. Thus, as I wrote last week, Rand Paul's claim that "marriage with kids versus unmarried with kids is the difference between living in poverty and not" is clearly fallacious. While poverty rates are higher for never-married and previously married parents than for currently-married ones, the vast majority of parents are still married and the poverty rate for people in married-with-kid couples (10%) is far from zero. As a consequence, there is extensive married-with-kid poverty in the United States.
Read more...
Written by Dean Baker
Monday, 03 February 2014 09:13
Recently some opponents of an increase in the minimum wage have argued that we are using an inaccurate measure of inflation when we say the 1968 minimum wage would be equal to about $10.00 an hour in today's prices. They argue that if we use the Personal Consumption Expenditures Deflator (PCE) to measure inflation --instead of the Consumer Price Index (CPI-U, modified slightly to reflect current methods back as far as 1968-- we would need a minimum wage of just $8.50 an hour to have the same purchasing power as in 1968. Furthermore, if we take the average value of the minimum wage over the years 1960-1980, the current minimum wage of $7.25 would already be roughly equivalent in purchasing power.
Read more...
Friday, 31 January 2014 14:08
The following newsletter highlights CEPR's latest research, publications, events and much more.
Read more...
Thursday, 30 January 2014 13:59
Via Bryce Covert , I see that Senator Rand Paul told a Chamber of Commerce audience recently that being "married with kids versus unmarried with kids is the difference between living in poverty and not" and that the government "should sell that message."
As you might imagine, Paul's claim is widely off base. The table below shows the number of parents (caring for kids under age 18) who live below the poverty line in Paul's state of Kentucky. There are about 70,000 people in Kentucky who are "married with kids", not counting an additional 16,000 people who are also "married with kids" but separated. By comparison, there are about 62,000 never-married parents with kids living in poverty in Kentucky (and some of them are poor despite living with a partner who they will go on to marry). In short, the vast majority of poor parents in Kentucky are either currently married with kids (48%) or have been married (15% are divorced and 2% widowed). Only about one out of every three Kentucky parents living in poverty have never married.
Read more...
Written by Dean Baker
Thursday, 30 January 2014 08:46
The economy grew at a 3.2 percent annual rate in the fourth quarter following a 4.1 percent rise in the third quarter. This is the best two quarter performance since the fourth quarter of 2011 and the first quarter of 2012 when the economy grew at
4.9 percent and 3.7 percent annual rates, respectively. Consumption grew at a 3.3 percent rate, accounting for 70.6 percent of the growth in the quarter. Investment continued the weakness it has shown over the last two years, growing at just a 3.8 percent annual rate. Somewhat surprisingly, housing fell at a 9.8 percent annual rate, its first decline since the third quarter of 2010.
Interestingly, the rate of inventory accumulation increased to $127.2 billion, one of the most rapid paces on record. This likely means slower growth in future quarters as slower accumulations will be a drag on growth. Imports were little changed in the quarter. As a result, trade added 1.33 percentage points to growth. Much of this was offset by a sharp drop in spending at the federal
level which subtracted 0.98 percentage points from growth. This will not be repeated in future quarters.
One item of clearly positive news was the slow growth in health care costs. Spending on health care services rose at just a 3.6 percent annual rate in the quarter. This means that health care spending is continuing to fall as a share of GDP.
Wednesday, 29 January 2014 12:09
In a 2012
paper
published in the peer-reviewed
Industrial and Labor Relations Review
(
ILRReview
), economists Joseph Sabia, Richard Burkhauser, and Benjamin Hansen concluded that the 39 percent increase in the New York state minimum wage in 2005-2007 (from the federal rate of $5.15 to $7.15) had "substantial adverse labor demand effects for low-skilled individuals." (p. 350)
But, a new working paper by University of Delaware economist Saul Hoffman suggests that Sabia, Burkhauser, and Hansen's (SBH) results were an artifact of the relatively small dataset they used to perform their analysis. When Hoffman uses a much larger version of the same data, he finds "no evidence whatsoever of a negative employment impact."
Read more...
<< Start < Prev 1 2 3 4 5 6 7 8

9

10 Next > End >>


Page 9 of 57