Wednesday, 19 February 2014 15:57
You wouldn't know it from the headlines, but on almost every issue in dispute, yesterday's Congressional Budget Office (CBO) report on the minimum wage sided with supporters of increasing the federal wage floor. The only major exception --which has so far dominated the media coverage-- was with respect to the employment effects of a minimum-wage increase, where the CBO decided to saw the baby in half.
First, let's look at all the disputes where the CBO accepted the numbers and the reasoning of supporters.
Read more...
Friday, 14 February 2014 00:00
The air is thick these days with rhetoric about spending on means-tested programs. The reality, however, is that means-tested spending, outside of health care spending, just hasn't increased much, if at all over the past several decades.
The CBPP chart below shows trends in spending on means-tested programs, other than health care, as a percent of GDP since 1972 and projected forward to 2023. The trend is pretty unremarkable. Spending on these programs has averaged about 2 percent of GDP. While spending peaked during the Great Recession, as one would expect and hope in a democracy that cares about the well-being of its people, it is now projected to fall back under 2 percent.
Read more...
Tuesday, 11 February 2014 10:27
The ugly title of this attack on single moms in the New York Times, "How Single Motherhood Hurts Kids", tells you pretty much everything you need to know about the content. The same can be said about some of the author's other greatest hits like: "Gay Marriage vs. American Marriage" and "The Single-Mom Catastrophe." In short, the message is: "Single moms, gay Dads, lesbian moms stop hurting America's children!"
Read more...
Sunday, 09 February 2014 00:00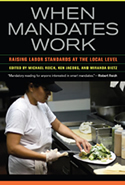 My copy of When Mandates Work: Raising Labor Standards at the Local Level, edited by Michael Reich, Ken Jacobs, and Miranda Dietz, arrived earlier this week and I finally had a chance to look through it this weekend.
The book is a collection of papers that assess the results of San Francisco's unique experiment, conducted over more than a decade starting in the mid-1990s, to use local action to raise the wages, benefits, and working conditions of low-wage workers through a series of legislated mandates on employers. Key elements of these efforts included a city-wide minimum wage (currently $10.74 per hour), a minimum health spending requirement (for firms with 20 or more employees), and a paid sick days law.
Read more...
Written by Dean Baker
Friday, 07 February 2014 08:44
The January employment report showed the employment-to-population ratio (EPOP) rising from 58.6 percent to 58.8 percent. This matches the previous high for the recovery in October of 2012. The household survey showed employment rising by 638,000 after increasing just 101,000 over the prior two months. Interestingly the growth was concentrated among younger workers. Employment for workers between the ages of 25-34 rose by 230,000, while employment for workers between the ages of 44-54 rose by 318,000, a one month increase of more than 1.0 percent. Whites disproportionately benefited from the rise in employment with the EPOP for both white men and white women rising by 0.4 percentage points.
The establishment survey was not nearly as positive, showing an increase of just 113,000 workers following last month's weak 75,000 gain.
Read more...
Wednesday, 05 February 2014 15:00
Today the Family and Medical Leave Act (FMLA) turns 21, and CEPR's Eileen Appelbaum and Helene Jorgenson have a new paper that finds that expanding FMLA coverage in certain ways would increase access to leave for 1.4 million to 8.3 million more employees in the private sector.
Read more...
Wednesday, 05 February 2014 12:27
Over 40 percent of impoverished parents of minor children are married. Thus, as I wrote last week, Rand Paul's claim that "marriage with kids versus unmarried with kids is the difference between living in poverty and not" is clearly fallacious. While poverty rates are higher for never-married and previously married parents than for currently-married ones, the vast majority of parents are still married and the poverty rate for people in married-with-kid couples (10%) is far from zero. As a consequence, there is extensive married-with-kid poverty in the United States.
Read more...
Written by Dean Baker
Monday, 03 February 2014 09:13
Recently some opponents of an increase in the minimum wage have argued that we are using an inaccurate measure of inflation when we say the 1968 minimum wage would be equal to about $10.00 an hour in today's prices. They argue that if we use the Personal Consumption Expenditures Deflator (PCE) to measure inflation --instead of the Consumer Price Index (CPI-U, modified slightly to reflect current methods back as far as 1968-- we would need a minimum wage of just $8.50 an hour to have the same purchasing power as in 1968. Furthermore, if we take the average value of the minimum wage over the years 1960-1980, the current minimum wage of $7.25 would already be roughly equivalent in purchasing power.
Read more...
Friday, 31 January 2014 14:08
The following newsletter highlights CEPR's latest research, publications, events and much more.
Read more...
Thursday, 30 January 2014 13:59
Via Bryce Covert , I see that Senator Rand Paul told a Chamber of Commerce audience recently that being "married with kids versus unmarried with kids is the difference between living in poverty and not" and that the government "should sell that message."
As you might imagine, Paul's claim is widely off base. The table below shows the number of parents (caring for kids under age 18) who live below the poverty line in Paul's state of Kentucky. There are about 70,000 people in Kentucky who are "married with kids", not counting an additional 16,000 people who are also "married with kids" but separated. By comparison, there are about 62,000 never-married parents with kids living in poverty in Kentucky (and some of them are poor despite living with a partner who they will go on to marry). In short, the vast majority of poor parents in Kentucky are either currently married with kids (48%) or have been married (15% are divorced and 2% widowed). Only about one out of every three Kentucky parents living in poverty have never married.
Read more...
Written by Dean Baker
Thursday, 30 January 2014 08:46
The economy grew at a 3.2 percent annual rate in the fourth quarter following a 4.1 percent rise in the third quarter. This is the best two quarter performance since the fourth quarter of 2011 and the first quarter of 2012 when the economy grew at
4.9 percent and 3.7 percent annual rates, respectively. Consumption grew at a 3.3 percent rate, accounting for 70.6 percent of the growth in the quarter. Investment continued the weakness it has shown over the last two years, growing at just a 3.8 percent annual rate. Somewhat surprisingly, housing fell at a 9.8 percent annual rate, its first decline since the third quarter of 2010.
Interestingly, the rate of inventory accumulation increased to $127.2 billion, one of the most rapid paces on record. This likely means slower growth in future quarters as slower accumulations will be a drag on growth. Imports were little changed in the quarter. As a result, trade added 1.33 percentage points to growth. Much of this was offset by a sharp drop in spending at the federal
level which subtracted 0.98 percentage points from growth. This will not be repeated in future quarters.
One item of clearly positive news was the slow growth in health care costs. Spending on health care services rose at just a 3.6 percent annual rate in the quarter. This means that health care spending is continuing to fall as a share of GDP.
Wednesday, 29 January 2014 12:09
In a 2012
paper
published in the peer-reviewed
Industrial and Labor Relations Review
(
ILRReview
), economists Joseph Sabia, Richard Burkhauser, and Benjamin Hansen concluded that the 39 percent increase in the New York state minimum wage in 2005-2007 (from the federal rate of $5.15 to $7.15) had "substantial adverse labor demand effects for low-skilled individuals." (p. 350)
But, a new working paper by University of Delaware economist Saul Hoffman suggests that Sabia, Burkhauser, and Hansen's (SBH) results were an artifact of the relatively small dataset they used to perform their analysis. When Hoffman uses a much larger version of the same data, he finds "no evidence whatsoever of a negative employment impact."
Read more...
Tuesday, 28 January 2014 13:29
Tonight the bars of DC will fill up with folks watching the President's annual State of the Union address. There are even a bunch of SOTU drinking games to play -- including CEPR's #SOTUBingo!

On a serious note, predictions abound about what the President will talk about. Two economic policy issues that may be front and center are inequality and the minimum wage.
Read more...
Monday, 27 January 2014 12:52
In Tuesday's State of the Union address President Obama will likely repeat the call made he made in last year's speech to raise the federal minimum wage. Just in case, here's an FAQ on the minimum wage.
Read more...
Written by Jeffrey Gianattasio
Monday, 27 January 2014 10:35
In recent months, the minimum wage has moved to the center of the economic policy debate. Proposals for minimum-wage increases are being introduced at the local, state, and national levels of government. Nationally, President Obama is working alongside Congressional Democrats on a push to raise the federal minimum wage from its current level of $7.25 to $10.10 by 2016.
At the state level, 20 states and the District of Columbia have minimum wages above the federal level, and on January 1, 2014, 13 states raised their minimum wage, with California set to follow suit with an increase to $9 in July. Of these 14 state increases, 9 are automatic adjustments based on indexing the value of the minimum wage to the cost of living, while 4 (NJ, CT, NY, RI) are the product of either ballot-measures or legislative action.
Read more...
Friday, 24 January 2014 16:18
In July, economists Jonathan Meer and Jeremy West made a splash with a new paper arguing that even though the minimum wage doesn't appear to have much effect on the level of employment (a position that should make more traditional critics of the minimum wage feel uncomfortable), a higher minimum wage does lower future growth in employment.
Read more...
Written by Janelle Jones and John Schmitt
Friday, 24 January 2014 11:43
The number of union members rose 162,000 in 2013, reflecting a drop of 118,000 in the public sector that was offset by a rise of 281,000 in the private sector. Expressed as a share of the workforce, the union membership rate was unchanged in 2013, at 11.3 percent.
In 2013, the share of public-sector workers who were in a union decreased by 0.6 percentage points, from 35.9 percent in 2012 to 35.3 percent in 2013. In the private sector, the unionization rate did not change significantly, increasing from 6.6 percent in 2012 to 6.7 percent in 2013.
Read more...
Wednesday, 22 January 2014 10:56
Isabel Sawhill and Quentin Karpilow of the Center on Children and Families at the Brookings Institution recently proposed what they call a "no-cost" way to reduce poverty and inequality. The proposal combines an increase in the minimum wage with some fairly radical and mostly unwise changes to the Earned Income Tax Credit.
Read more...
Monday, 13 January 2014 10:19
University of Massachusetts economist Arindrajit Dube (on leave this spring at MIT) has an excellent new paper looking at the impact of the minimum wage on the federal poverty rate.
In the past, I have generally relied on analyses along the lines of this recent chart prepared by the Economic Policy Institute's David Cooper to assess the distributional impact of increases in the minimum wage.
Read more...
Monday, 13 January 2014 00:00
Yesterday an important study by Maria Shriver, in partnership with the Center for American Progress, was released nationwide. The Shriver Report: A Woman's Nation Pushes Back From the Brink.
"is a groundbreaking investigation into the millions of women who are doing it all and barely scraping by, struggling to provide and parent in a nation that hasn't kept pace with the modern realities of their lives. It combines research, analysis and ideas from the nation's top academic institutions and think tanks, essays by leading thinkers, stories of real women struggling with our modern economy, and a comprehensive poll."
Read more...
<< Start < Prev 1 2 3 4 5 6 7 8

9

10 Next > End >>


Page 9 of 57